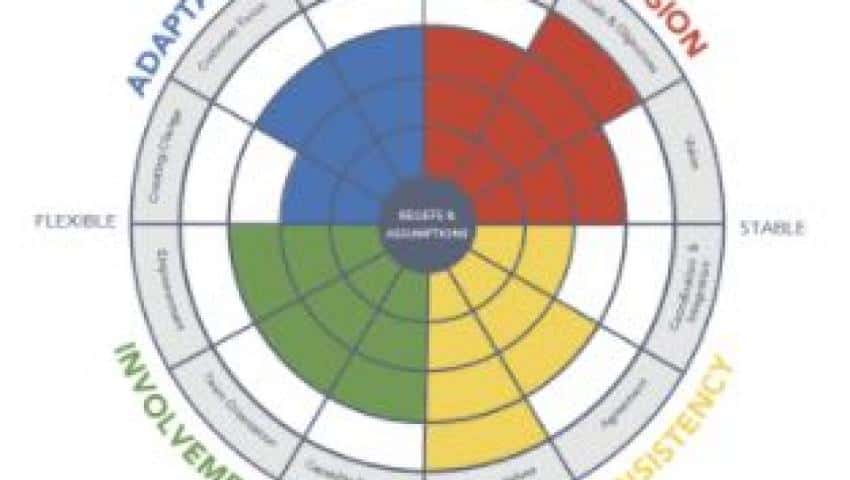 20

April 2017

Posted by

Marcella Bremer
I discussed the Competing Values Framework at length because it is such a foundational framework and proves to be so useful.
Let's now look at some other culture theories and tools. I compare them with the CVF - so you can see how they differ or align. The Denison Organizational Culture Model is based on the same concept as the CVF. They discern four essential traits of organizations:
Adaptability
Adaptability is perceiving and responding to the environment, customers, and adapting processes and crucial behaviors if necessary. It is located in the quadrant of flexibility and an external focus (and aligns with Create Culture). Three areas of adaptability are:
Creating Change: welcoming new ideas, being willing to try new approaches to doing things, see creating change as part of running a business.
Customer focus: employees serve internal and external customers and look for new and improved ways to meet customer expectations.
Organizational Learning: gaining knowledge from successes and failures, and thoughtful risk taking. The reaction to reasonable mistakes is 'What can we learn?'
Involvement
Involvement means engaging and aligning people, creating a sense of ownership and responsibility. People feel a commitment to the organization and a sense of autonomy. Based on flexibility and an internal focus. This quadrant resembles Collaborate Culture. Constituents are:
Empowerment: they have defined areas where employees can make decisions and where they can't.
Team Orientation: employees support each other in achieving goals and teamwork is encouraged.
Capability Development: training, coaching, and trying new roles and responsibilities are ways of developing new competencies.
Consistency
Consistency refers to integration of activities, coordination, and control, and setting up an internal system of governance. Rooted in stability and an internal orientation (and aligns with Control Culture). Areas of interest are:
Core Values: A clear set of core values help to make consistent decisions and behave in a consistent manner.
Agreement: Through dialogue and getting multiple perspectives on the table people can reach agreement in case

of difficult issues.

Coordination & Integration: Employees understand how their work impacts others and vice versa. They make sure that work is coordinated to serve the organization.
Mission
Mission entails creating a mission that answers the Why of the organization, and how people's daily work contributes to shared goals and results. Based on stability and an external orientation (resembles Compete Culture). This dimension consists of:
Strategic Direction & Intent: creating multi–year strategies so that priorities are established to make the vision come true.
Goals & Objectives: means creating short–term, specific goals established that help employees see how their daily activities connect to the vision and the strategy.
Vision: here is the ultimate reason why you are in business – your purpose – what you are trying to achieve.
In this blog series, I compare other culture models with the Competing Values Framework. Feel free to let me know what you think!
Do you want to know how your organization scores on the Competing Values Framework? Do the free individual OCAI trial here. Or check out the paid Pro and Enterprise assessments for teams and organizations.
© Marcella Bremer 2017. All rights reserved.